30 Beach Way DriveFreeport, Grand Bahama Island, The Bahamas
Phone • (242) 373-4014
Fax • (242) 373-2629
Toll free (866) OK2-DIVEkaren@sunnodysseydivers.com

---

Morning two tank dive leaves our dock 8:30 AM daily (no morning dive on Sundays). Time changes occasionally to accommodate cruise ship passengers!
Check-in time 8:00 AM
Afternoon two tank leaves our dock 2:00 PM daily.
Check-in time 1:30 PM Most courses held during the afternoon. Complimentary transportation from your hotel; other arrangements for cruise ship passengers!

---

PADI Gold Palm 5 Star IDC Resort #20438
_______________________________________________________
They certainly have come a long way since their days on Silver Sands Beach, more than 20 years ago! Moving on to The Atlantik Beach Hotel in Port Lucaya brought them many more customers with memories galore! There have been so many of divers and students that they have lost track of after moving to Silver Palm Court. And if you see this page, please e-mail them and let them know where you are and when they can expect to see you on Sunn Odyssey Divers' dive boat again?

Now after Hurricane Wilma, we arrive at our best location ever! Walking distance to beautiful Williams Town Beach and the fabulous Island Seas Resort!

If you remember how wonderful they were a few years ago, just think how great Sunn Odyssey must be now with all the experience they have gained! They don't have a zero accident record by accident!

SERVICE WITH A PERSONAL TOUCH


The largest does not always mean the best; but you usually get

what you pay for. Therefore, choosing a dive operator by size or lowest price may not always be advisable.

Sunn Odyssey Divers has an outstanding safety record; zero accidents in over 20 years of operation on Grand Bahama Island. They are dedicated to offering exceptional diving, which means you will not feel more relaxed or pampered than on SUNN ODYSSEY DIVERS' dive boat.

And it goes without saying, never any cattle boats! Scuba Divers understand this too well! Sunn Odyssey Divers offers the finest in personalized diving services in an uncrowded atmosphere, with a maximum of 10 divers per two-tank dive trip.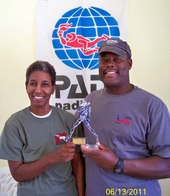 ---









Meet the Ward Family, three generations:





---

"I was one of Nick's first divers when he started his Sunn Odyssey Divers business. My family has been diving with Nick and Karen for over 23 years. Nick and Karen run one of the safest and well managed dive operations in Freeport.

Their well managed dive operations are the reason my family scuba dives with Sun Odyssey Divers.

They are also the reason I allowed my precious granddaughter to complete her initial scuba course and her first shallow dive with only Nick as the Master Instructor."

Signed: Jim Ward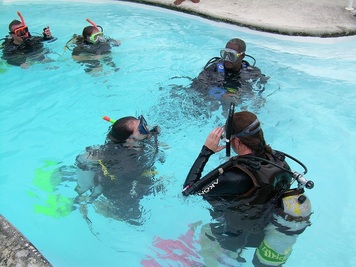 LEARN TO DIVE IN A DAY WITH NICK AND KAREN!
PADI Discover Scuba Diving (Resort Course)
Learn to dive in a day! This program is designed to permit individuals to experience scuba under direct instructor supervision in ideal conditions; such as those found at a warm water resort such as Sunn Odyssey Divers Grand Bahama.
Knowledge and skills developed by taking participants through a performance-based learning sequence prior to the open-water experience.
This makes the first experience most memorable for the vacationing nondiver!
Wonderful to hear from you with interest in learning to scuba dive with our Discover Scuba course. It is a non-certification course which is given all in one day.
This includes lecture, all equipment, classroom lecture and confined waterskills experience and shallow boat dive.
---